America's Test Kitchen 11x25
Grilled Steak and Gazpacho
As the beef capital of the world, Argentina boasts mouthwatering steak dishes in its cuisine. We replicate one dish, Grilled Argentine Steaks with Chimichurri Sauce, and then look eastward to Spain and demonstrate our recipe for Creamy Gazpacho Andaluz.
Charcoal-Grilled Argentine Steaks with Chimichurri Sauce
With Argentine beef and a wood fire, cooking churrasco in the backyard would be easy. We were stuck with American supermarket steaks and a Weber kettle.
Creamy Gazpacho Andaluz
Most Americans know gazpacho as a chunky liquid salsa. In Spain, the most famous version is a creamy puree. But to get it right, we'd need more than just a good blender.
Canned Diced Tomatoes
When most brands garner comments like "sour, old, sad," we just had to ask: What does it take to produce good canned diced tomatoes?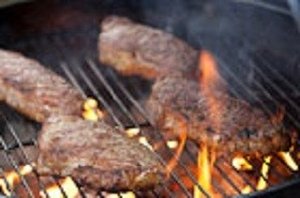 Jun. 18, 2011
America's Test Kitchen season 11