Chrome Shelled Regios 1x16
Zuellni Rampage, Polluted Beast Attack!
Zuellni has gotten out of control and required Nina's attention. Leerin wishes to go meet Layfon in Zuellni and the Queen sends her Savalis as protection. She also receives a DITE-like object to deliver to Layfon as proof that he has mastered the arts of the Psyharden. Felli and Nina visit Layfon in his hospital room but Felli becomes jealous when she noticed that Nina came first and delivered a larger amount of flowers that she had and simply leaves the room saying cruel remarks and kicking Layfon's bed. Sharnid asks Siena to join his platoon in order to fill in for Layfon in the inter-platoon match against the 1st platoon. She agrees and helps them. During the match, their actions were predicted and they were overwhelmed. Shortly after Layfon's dismissal from the hospital, Karyan asks him and the Salinvan Guidance Mercenary Gang to destroy the incoming contaminoids that the city was heading towards.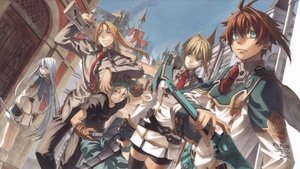 Apr. 26, 2009
Chrome Shelled Regios season 1